The FLIR Thermal Studio Suite helps users manage thousands of thermal images and videos, whether they're from a handheld thermal imaging camera, unmanned aircraft system (UAS), or optical gas imaging (OGI) camera. This subscription software offers the advanced processing features needed for predictive maintenance on critical components, system troubleshooting, and increased productivity. Add the optional FLIR Route Creator plug-in to Thermal Studio Pro to streamline inspection workflows and simplify reporting.
Users create their route in the software and download it directly to any FLIR camera with Inspection Route enabled. The camera then directs the user through the inspection in a logical sequence, organizing data and thermal images by asset. Available in more than 20 languages, FLIR Thermal Studio software is key to producing professional thermal images and reports.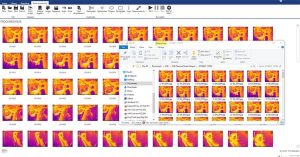 Simplify surveys by pre-planning the route using the optional FLIR Route Creator plugin for FLIR Thermal Studio Pro. This plugin allows you to create lists of the assets you need to inspect at each location, organized in the most efficient order. The Inspection Route option for your camera can guide you, step-by-step, through the survey while also auto-matching images, notes, and comments to the correct asset on your inspection list. By following the guided inspection points, you will reduce the chance of missing any assets—leading to unexpected faults and breakdowns.